All Saints Church
Hollingbourne, Kent

Other Culpeper Memorials at All Saints Church, Hollingbourne
For a detailed historical account of the Culpepers at Hollingbourne, see the Hollingbourne chapters of The Proprietors of the Northern Neck by Fairfax Harrison.

Memorial to Francis Culpeper11h
Francis Culpeper11 (1538-1591), was the second son of William Culpeper10 (1509-1559), of Wigsell in Sussex. Educated at Winchester and New College, Oxford, he returned to the vicinity of the Hunton manor house of his boyhood. Eventually, he settled at Harrietsham where his second son was baptized in 1572 and his first wife buried in 1574. About 1572, Francis inaugurated his family's landholding in the Len valley, by purchasing from his 'cousin,' Sir Warham St. Leger, the leasehold of the manor of Greenway Court situated on the borders of Hollingbourne and Harrietsham.

To the house, since replaced after a fire, he brought his second wife Joan, widow of William Stede of Harrietsham. There he maintained his residence for twenty years and was buried in Hollingbourne, June 1, 1591.

His youngest son, Thomas Culpeper12h (1575-1661), subsequently erected for him and his second wife the first of the numerous Culpeper memorials . Set in the north wall of the sanctuary, it is a handsome renaissance monument, now badly flaking, set off with Corinthian columns of rubbed Bethersden marble and topped with obelisks.


The Francis Culpeper Memorial at Hollingbourne Church
Photo by Warren Culpepper, March 2000

Sir Thomas Culpeper, the Elder12h
Built Chapel, But Otherwise Not Memorialized
Sir Thomas Culpeper, the Elder12h (1578-1662), writer on usury in Elizabeth's reign, was only son of Francis Culpeper. He became a commoner of Hart Hall, Oxford, in 1591; left the university without a degree; entered himself as a student at one of the Inns of Court; purchased Leeds Castle, Kent, and lived either there or at Greenway Court for the rest of his life.
He was Member of Parliament for Rye (1597), Winchelsea (1601), Chippenham (1614), and Tewksbury (1628), and James I knighted him 23 Sep 1619.
In 1630 he began writing his Tract against the high rate of Usury, and published it after having presented it to parliament in 1621. Thomas argued that ten percent, which was the legalized rate of interest at the time, was too high for commerce or morality, and argued for its reduction to six percent. The subject came before parliament in 1623 and 1624. Ultimately the rate of interest was reduced to eight per cent.
In 1600 he married Elizabeth Cheney (1582-1638), a considerable heiress and daughter of John Cheney of Guestling, Sussex. Sir Thomas and Lady Elizabeth had eleven children, including Cheney (1601-1663), Judith (1606-1651), Cicely (1610-1651), and Thomas (1625-1697).
Cheney13 was knighted in 1628 and in the following year was sent to The Hague with an official letter of condolence from Charles I to his sister the Queen of Bohemia on the death of her eldest son. It is possible that it was on this occasion that Sir Cheney was presented with the hairbrushes, now at Leeds Castle, traditionally associated with Elizabeth of Bohemia. In 1632 Leeds Castle, which had been purchased by Sir Thomas from the executors of Sir Richard Smythe, was settled on Sir Cheney.
Judith Culpeper13 married her cousin Sir John13, afterwards first Lord Culpeper, who settled at Greenway Court when he returned from service with Gustavus Adolphus in 1628.
Civil strife, always the most divisive of conflicts, did not leave the Culpeper family unscathed. Sir Thomas Culpeper12h remained, like most of the family, loyal to the Stuarts but did not take the field on their behalf. Nevertheless he was deemed by Parliament to be a malignant and on April 30, 1646, was required to compound for his estates with the large fine of £1318 and this despite the fact that his eldest son, Sir Cheney13h, adhered to Parliament.
His declining years were passed in reduced circumstances at Greenway Court, estranged from his eldest son. When on 27 Jan 1661/2, he was buried in the vault at Hollingbourne that he had built, Sir Thomas the Younger13h had not the wherewithal even to inscribe one of the chapel's wall shields to the memory of his father who has no other memorial than the chapel itself.

Memorial to Cicely Culpeper
(Daughter of Sir Thomas Culpeper, The Elder)
| | |
| --- | --- |
| Cicely Culpeper13 (1610-1651) married Ralph Freke (1596-1684), of Aldington in Thornham, co. Kent, who subsequently became a creditor of the second Lord Culpeper. It was a source of much trouble and will be mentioned briefly later. A Memorial (photograph at right) was subsequently erected by a granddaughter. | |

Memorial to John, First Lord Culpeper
The natural conservatism of Sir John Culpeper13w, (Portrait) Sir Thomas's son-in-law, became increasingly apparent to the king and his ministers after the calling of the Short Parliament in 1640. This led to an invitation to join the government. Thereafter Sir John's star rose and declined with the fortunes of the Stuarts. Culpeper was successively Chancellor of the Exchequer and Master of the Rolls, but his ungracious temper made him unpopular with almost every member of the king's party with the single exception of the king himself who, in 1644, rewarded his loyalty with a peerage. Lord Culpeper was successful in conveying the Prince of Wales out of England and remained in exile until 1660. Naturally Parliament confiscated all his estates.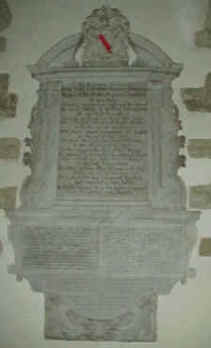 Through his father Thomas Culpeper12w (1561-1613), a nephew of Francis Culpeper11h, Lord Culpeper had gained considerable knowledge of Virginia because his father left him his shares in the original Virginia Company. During the exile Charles II named Lord Culpeper, among others, as a patentee of vast land holdings in Virginia (known as the Northern Neck). With the Restoration the grant gained some probable value but Lord Culpeper thought so little of it that he did not even mention it in the will he drew up shortly before his death in July 1660 at Hartinge in Sussex.
Lord Culpeper requested that he be buried in the vault at Hollingbourne. Nonetheless, his monument (pictured at left) was not placed in the chapel. Erected by his younger son the third Lord Culpeper, and eldest daughter Elizabeth, it was placed on the north wall of the chancel in June 1695.

Memorial to John, Third Lord Culpeper
Found in the south aisle is this memorial for John, third Lord Culpeper14w, who, was baptised in Hollingbourne, 4 Mar 1640/1, as 'John, sonne of Sir John Culpeper, Knt. and Dame Judith his wife. His monumental inscription reads as follows:

"In hopes of a blessed Resurrection to Eternal life, near this place lyeth the body of the Right Honourable John, Lord Colepeper, Baron of Thoresway, in the County of Lincoln. He was the best of Friends and the best of Husbands. He was in four Sea-Fights, wherein he behaved with great Courage & Bravery, having his Cabin shot to pieces and his Commanding Officer kil'd. He attended the House of Lords 18 years constantly, with a very small fortune, where he always behaved with steadiness for the good of his King & Country. He resigned his soul to God the 8th of July, 1719, and ended his days with Resignation and Piety. He married Francis, eldest daughter of Sir Thomas Colepepper, of this place, by whom he had no issue...
"The Right Honourable Francis, Lady CoIepeper erected this Monument to show the great Respect she had to the Memory of her Husband, John, Lord Colepeper."

Memorial to Cecilia Clark Stede, daughter of Mary Culpeper and granddaughter of Sir Thomas Culpeper, the Elder.
Cecilia Clark Stede (the daughter of Mary Culpeper who was the daughter of Sir Thomas Culpeper, the Elder) is interred in a tomb in the aisle at Hollingbourne.

Her memorial inscription reads as follows:

Here lies interred the body of Mrs. Cecilia Stede, the most entirely beloved wife of Colonel Edwin Stede, his Majesty's Lieutenant Governor of the Island of Barbados. She was the daughter of that loyal Sir Wm. Clark that lost his life at Croypla (Cropedy) Bridge in Kent in the service of his King and country. She died at Betherden, the 1st February Anno Dom. 1685/6.

Memorial to Dame Grace Gethin
(Great-granddaughter of Sir Thomas Culpeper, the Elder
On the north wall at the chancel entrance is the fine monument to Dame Grace Gethin, grand-daughter of Ralph and Cecilia (Culpeper) Freke.

It records that on the day before her death she had what in other traditions is called an "ecstasy". Dame Grace is esteemed for her publication of "Reliquię Gethinianę", a commonplace book of others' work.

Dame Grace is buried beneath the high altar.

There is also a monument to her in Westminster Abbey.

Memorial to Philippa Culpeper, First wife of John Lord Culpeper, First Baron of Thoresway
John, First Lord Culpepper, married first, Phillipa, who died very young (perhaps in childbirth?) and only two years after their marriage. The inscription on her memorial is as follows:



In memoriam Philippae filiae unicae Georgii Snellinge, Equitis Aurati, et Ceciliae, filiae et unius heredum Thomae Sherley, armigeri, uxoris Johannis Culpeper, Ordinis Equestris, Primi Sternmatis Wigsellensis, cui cum duos fiberos, Alexandrurn et Philippam, care-emptam, peperisset, animarn Creatori redidit, xvi die Septembris, Anno salutis, MDCXXX, Aetatis suat XX."

Dave Godden, in Kent, translates:
In memory of Philippa, daughter of George Snelling Knight and Cicely, daughter and heir of Thomas Sherley Knight, wife of John Culpeper order ??????? buried 16 September 1630, aged 20."

Warren Culpepper Note: When taking this photograph, I neglected to record the exact location of this memorial within Hollingbourne Church. If you know it, or if you can provide a more complete translation, please let me know.

| | |
| --- | --- |
| | Elizabeth Culpeper, buried 10 Sep 1626 |
| | Philippa Culpeper, wife of Sir John Culpeper, knt., 16 Sep 1630 |
| | Elizabeth Culpeper, dau. of Sir John Culpeper, buried 9 Apr 1632 |
| | Thomas Culpeper, son of Sir John Culpeper, buried 25 Aug 1634 |
| | Mr. John Culpeper, armiger, buried 18 Dec 1635 |
| | Elizabeth Culpeper, dau. of Sir Cheney Culpeper, 31 Dec 1635 |
| | Thomas Culpeper, son of Sir Cheney Culpeper, 8 Feb 1637 |
| | Elizabeth Culpeper, the virtuous lady of Sir Thomas Culpeper, knt., 30 Oct 1638 |
| | Phillippa Culpeper, dau. of Sir Thomas Culpeper, knt., 4 Nov 1638 |
| | Sir Thomas Culpeper, died 27 Jan 1661 |
| | Doris Culpeper, lady of Sir Thomas Culpeper, knt., 6 Aug 1662 |
| | Thomas Culpeper, buried 8 Jun 1640 |
| | Sollomon [sic] Culpeper, 12 Jan 1647 |

Last Revised: 02 Jan 2015