When Lady Elizabeth died in 1638 Sir Thomas Culpeper12 built a new chapel in Hollingbourne Church. He intended it to be a memorial to his wife and all the Culpepers.

The monument to Lady Elizabeth occupies the central space of the chapel and is one of the finest works of the important 17th century sculptor Edward Marshal (1598-1675).

Marshall was twice Master of the Masons' Company and became Master Mason to the Crown in 1660. The late Rupert Gunnis in his authoritative Dictionary of British Sculptors, 1660-1851, considered that his monuments were of the first importance and that the finest was 'the noble recumbent effigy of Lady Culpeper, 1638, at Hollingbourne, Kent'.

Lady Elizabeth Culpeper was the daughter and co-heiress of John Cheney of Guestling, Sussex.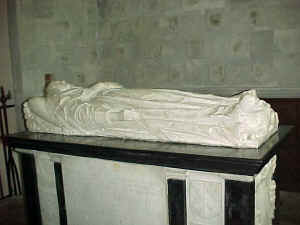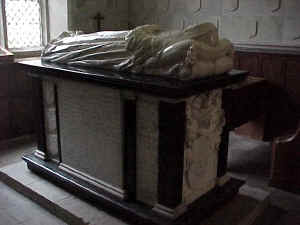 Lady Culpeper Monument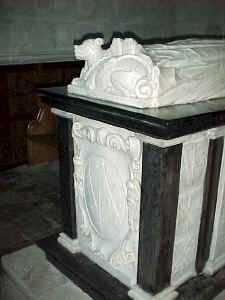 The Cheney Family's heraldic beast
at the feet of Lady Culpeper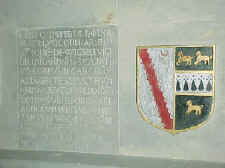 One of several shields on the walls
The Cheney Family's heraldic beast, a theow or thoye, is shown at her feet. (photograph at left.) It was a strange, toothy animal with cloven hoofs and a cow's tail, the whole covered with heraldic spots. Lady Elizabeth's hands each bear a ring tied to a cord, which disappears into the sleeve of her dress.
The Chapel in which Lady Elizabeth rests was intended by her husband not only as a memorial to her, the best of women, the best of wives, the best of mothers ( the inscription 'Optima Fæmina, Optima Coniux, Optima Mater' is on the side of the tomb). It was also intended as a cenotaph (a monument erected in honor of a person, or group of persons, who are buried elsewhere) to the Culpeper family as is proclaimed by the shields on the walls, most of them plain because the family left the district.
Under the Chapel is a vault, which still contains several lead coffins of the Culpepers. The brick opening to this in the east wall is now sealed up. Local tradition has it that the coffins sometimes moved about the vault unaided.