Great Wigsell

Owned for three centuries by direct ancestors of the modern-day Culpeppers
The area where Great Wigsell sits today is about eight miles south of Goudhurst, lying close under the southwestern border of Kent, not far from Bayhall and Bedgebury. The land was purchased in 1348 by Sir John Culpeper5 of Bayhall who was the sheriff of the county Kent starting in 1370.

For its first century and a half of Culpeper ownership, Wigsell consisted of some 600 acres of plough and pasture, with even more land of wood and heath, in the Sussex parish of Salehurst. Fairfax Harrison says, "It was not yet a place of residence, however: its original value lay in the supply of charcoal which its forest cover provided for the iron smelting industry in which the Culpepers, like so many of their neighbors in the Weald, were profitably engaged in the fourteenth and fifteenth centuries."

Upon the first marriage of Sir Thomas Culpeper6 of Bayhall, Wigsell was given to him by his father, Sir John5.

From Sir Thomas6, the land passed to his son, Walter Culpeper7 who fought at Agincourt. In about 1425, Walter married the widow of the last Bedgebury of Bedgebury in Goudhurst and was buried with that family in Goudhurst church, as was his son Sir John8, who inherited Hardreshull, Bedgebury and Wigsell from his father.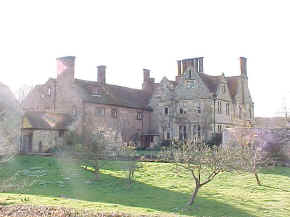 Sir John8 was knighted by Edward IV in 1468 and made sheriff of county Kent. He left a will disposing of his estates among two sons, Alexander9 and Walter9. These estates included the manors acquired by the Bedgebury marriage (Bedgebury and Haselden) in Kent, an inherited Culpeper manor (Wigsell) in Sussex, and certain lands in Essex which Sir John had purchased. Despite the Kentish custom of gavelkind, the elder son, Alexander9, was only given the lands in Kent, and the younger, Walter9 received those in Sussex and Essex.

Harrison says, "At the death of Sir John,8 Wigsell must already have been somewhat denuded and so of less value than it had been; but the title was sufficient, nevertheless, to enable its inheritor (Walter9) to pursue the thrifty practice of his ancestors and negotiate a marriage which established Culpeper of Wigsell for a century and a half to come... He married in 1500(?) Anne, daughter and heiress of Harry Aucher of Lossenham. in Newenden, co. Kent."

Walter9, began life, like his grandfather, the squire of Agincourt for whom he was named, as a professional soldier; but, unlike his grandfather, he did not live to retire to his estates. In 1508 he was reported as the under marshal of Calais. Three years later, in November, 1511, being then recited a 'squire of the body' of Henry VIII, he was granted also the post of bailiff of the Scavage of Calais and the isle of Colne. His crowding hour came in August, 1513, when his young King was engaged in the invasion of France to assert an outworn claim of inheritance of that realm, and it was Walter's fortune to be left for the moment in responsible command of the garrison of Calais. In the face of a surprise attack in which the French greatly outnumbered the English and Walter's heir, William Culpeper10 appears to have begun life as a practicing lawyer.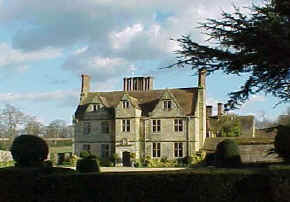 In 1538 he was included in the long list of gentlemen enrolled as aids to Thomas Cromwell the powerful Vicar General and Lord Privy Seal to Henry VIII. At this time, he lived at Hunton, which was not owned by the Culpepers. At the very end of his life, William settled down at Wigsell, and his heir at his death in 1559 was his son John11.

Little is known of John Culpeper11 of Wigsell other than he was a justice of the peace and lived a long, uneventful life at Wigsell, John held Wigsell for 53 years, and at his death in 1612, passed it to his son, Thomas12.

Thomas Culpeper12 inaugurated his family's interest in Virginia, but held Wigsell for only one year before his death in 1613. His heir was his son John Culpeper13 who was to become Lord Culpeper, first Baron of Thoresway.

In 1623, John Culpeper13 sold Wigsell to his cousin, Thomas Culpeper12 of Hollingbourne who then gave Wigsell to his son, Sir Cheney Culpeper13.

After having been a Culpeper possession for 300 years, Wigsell passed, in the ruin of Sir Cheney Culpeper's estate, in 1625 to Richard English who had been 'table boy under the Colepepers whom at length he bought out.' Upon its sale, the original foundation was used to build the magnificent manor house that stands today and is called Great Wigsell. Ultimately, it came to a branch of the Harcourt family and in the 1920'a was the residence of Lord Edward Cecil of the Egyptian service. The house has been several times rebuilt and so now bears little relation to its appearance when the Culpepers possessed it.

Photographs by Warren Culpepper, March 2000.

Location: On the west side of the B2244, just across the Kent/East Sussex border, about 1.5 miles S of St. Laurence Church, Hawkhurst. (8 miles SSE of Goudhurst.)

National Grid Coordinates: TQ 761 274

A Visit to Great Wigsell
In October, 1999, Culpepper Connections' publisher Warren Culpepper and his wife Lee, had the opportunity to visit Great Wigsell and its current owner. This came about from an inquiry we made at the public house across the street from Salehurst Church.

We inquired to those in the pub if anyone knew the location and/or the owner of Great Wigsell. One couple said that they had attended a charity fund-raiser there and had met the current owner, an American woman. The couple gave us her name and we phoned to see if it might be possible to visit the house.

At the time, we had no idea of its scale or grandeur. While the owner didn't return the call for several days, she eventually did call, explaining she had been away in London. When I told her my interest in and connection to the house, she graciously invited us over for drinks the next evening.

The visit was delightful and the owner kindly showed us the mansion from top to bottom. The complete tour must have taken over an hour.

While the current home reportedly bears little resemblance to the home of the Culpepers of the 15th, 16th and 17th centuries, it is a most impressive home today, just as it apparently was several centuries ago.

Wigsell Culpeper Dates, Ownership (Monarch)
Until the later half of the 15th century, Wigsell was farmland and woods, not a place of residence:
?-1348: Simon de Etchingham

1348-1370: Sir John Culpeper5 of Bayhall and Hardreshull
(Edward III)

1370-1428: Sir Thomas Culpeper6 of Bayhall, Hardreshull and Exton
(Edward III, Richard III, Henry IV-VI)

1428-1462: Walter Culpeper7 of Goudhurst
(Henry VI, Edward IV)

1462-1480: Sir John Culpeper8 of Goudhurst
(Henry VI, Edward IV)
Sometime during the tenure of Sir John8, Wigsell was developed as a residence:
1480-1516: Walter Culpeper9 of Wigsell and Under Marshall of Calais
(Edward IV-V, Richard III, Henry VII-VIII)

1516-1532: Ann Culpeper9, dowager of Walter
(Henry VIII)

1532-1559: William Culpeper10, Esq.
(Henry VIII, Edward VI, Mary, and Elizabeth)

1559-1612: John Culpeper11 of Wigsell, Esq.
(Elizabeth, James I)

1612-1613: Thomas Culpeper12 of Wigsell
(James I)

1613-1623: John Culpeper13of Wigsell, later Lord Culpeper, First Baron of Thoresway
(James I)

1623-1625: Sir Cheney Culpeper13 (Wigsell was bought for Cheney by his father Sir Thomas12 of Hollingbourne from his cousin John13)
(James I)

1625-?: Richard English