Photo by Warren Culpepper, October 1999



Real Estate Listing Description
Jackson-Stops & Staff
September 2000

A Listed Grade II 18th century manor house with adjoining cottage, in need of refurbishment, and traditional garden with orchard. Substantial period brick barn suitable for conversion into three houses, subject to planning consent.

Main house: Hall drawing room, dining room, sitting room, study, 8 bedrooms, 2 bathrooms, kitchen/breakfast room, rear hall, workshop and cellar.

Adjoining cottage: Hall, reception room, 4 bedrooms and bathroom.

Garden store, garden, orchard and woodland, barn of approximately 526 sq.m.

In all about 3 acres.
Greenway Court History
Greenway Court, from which the sixth Lord Fairfax derived the name of his wilderness lodge in Virginia, still stands, close at the foot of the North Downs, on the boundary line of Harrietsham and Hollingbourne.
Some of the old masonry dates from the fourteenth century, but the house has been several times rebuilt. Hasted says (ii, 466) that it "was formerly esteemed a manor, the mansion of which was a seat of good account." According to the owner in September 2000, the house, as it is today, was built in 1786 on the old foundations. The previous house burnt down in 1782.
Originally held by a family called Greenway, the estate came into the possession of the Crown and was settled by Henry VIII upon the Dean and Chapter of Canterbury. It was subsequently held by the St. legers, and was purchased in 1572 by Francis Culpeper11 (the second son of direct ancestors of the modern-day Culpeppers: William Culpeper10 of Wigsell and his wife, Cecily Barrett). Upon the death of Francis in 1591, Greenway Court passed to his nephew, Alexander Culpeper12. It continued to be held by the Culpepers until in 1719 it passed from Catherine Culpeper to her son Thomas, the Sixth Lord Fairfax. In 1758, Robert, seventh Lord Fairfax, alienated the leasehold to the banker, Sir Francis Child.
Although the manor of Alnorthing was usually held with Greenway Court, the latter was in itself never more than a dwelling house and curtilage. Sir Alexander Culpeper12 describes it (Greenway Court) in his will (1645) as "11 acres and no more," As appears from the text, the house, though modest according to modern standards, or when compared with Leeds Castle, was occupied in turn by every branch of the Wigsell Culpepers, during an hundred and eighty years, and was always held by that family in high esteem and affection as a comfortable refuge from a cold world, where a tradition of old hospitality and a simple family life might be maintained in dignity. (Harrison, Fairfax, The Proprietors of the Northern Neck, 1926.)
The owner as of September 2000 had lived in the home for 49 years and had recently put it on the market.
Greenway Court
Location: 1 mile E of Hollingbourne on Greenway Court Road.
National Grid Coordinates: TQ 852 541
Culpeper Ownership Summary
| | |
| --- | --- |
| | Before 1572: Sir Warham St. Leger |
| | 1572-1591: Francis Culpeper11 |
| | 1591-1661: Sir Alexander Culpeper12 (Son of Francis11) |
| | 1661-1689: Thomas, Lord Culpeper14, Second Baron of Thoresway (grandson of Thomas12, brother of Alexander12) |
| | 1689-1719: Catherine Culpeper15, (daughter of Thomas14) who married Thomas, Fifth Lord Fairfax of Cameron |
| | 1719+: Thomas, Sixth Lord Fairfax of Cameron (son of Catherine Culpeper) |
1831 Topographical Dictionary:
Hollingbourn, a parish in the hundred of Eyhorne, lathe of Aylesford, county of Kent, 6 miles E from Maidstone, containing 1000 inhabitants... The church, dedicated to All Saints, is a handsome edifice, attached to which is a chapel with a marble floor, containing a superb monument to the memory of Lady Culpeper.
Village of Hollingbourne
Location: 14 miles NE of Goudhurst.
National Grid Coordinates: TQ 843 551
Culpeper Close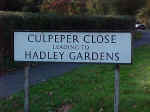 Above: A street sign in Hollingbourne, at the entrance of a modern subdivision. Unrelated to Greenway Court or other known Culpeper properties.