The Proprietors of the Northern Neck
Chapter 2b
Wigsell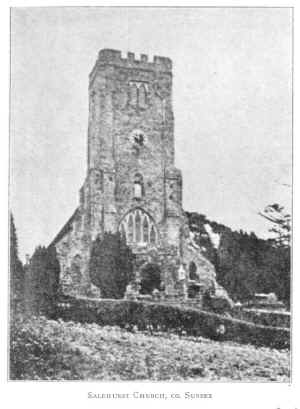 XI. John Culpeper (William10), 1531-1612, of Wigsell, was named in his father's will (1559) as 'John Culpeper my eldest son,' and lived out a long and uneventful life at Wigsell. There is no record of his education. If he was not sent to Winchester like his younger brothers, he probably spent some years in residence at one of the inns of chancery: but he was not admitted to any of the Inns of Court. It is thus possible, by the process of elimination, to distinguish him from the other three Johns of his generation.31
All the public testimonies for him are in the acts of Queen Elizabeth's Privy Council ranging from 1558 to 1592. These show him an active Justice of the Peace, included in the quorum of the Commission for the Rape of Lewes and the Cinq Ports of Sussex, in such periodical correspondence relating to the routine of local government as made up his father's public record also.
The inquisition taken in 1614, after the death of his eldest son (post), testifies that he made a settlement of his estate in 1589 in lieu of a will, and died on October 20, 1612. He was buried in Salehurst, October 21, 1612, as 'Johanes Colepeper, armiger, etatis 82,' whence it may be deducted that he was born the year after his parents' marriage. If there was an MI., it was destroyed in the desecration of Salehurst Church during the Commonwealth.
He married in 1560? Elizabeth, dau. of William Sydley (or Sedley) of Southfleet, co. Kent,
Before the Sydleys flowered at the last Stuart courts in the persons of Sir Charles Sedley the wit, and his historically well known dau., Catherine, Countess of Dorchester (entered by Berry as having married James II!), they had had a long history in Kent (Hasted, ii, 170). They rose to wealth, however, by the industry of a younger son temp. Henry VIII, and thereafter intermarried several times with the Culpepers. This particular marriage is shown on the Sydley pedigree, returned at the Visitation of Kent, 1619, but there is better evidence for it in the Sydley wills collected by Waters (Gleanings, ii, 961, ff.).

John Sydley, grandfather of Elizabeth Culpeper, described himself in his long and racy will of 1530 (P. C. C. Thower, 20) as 'oon of the Kinges Auditours in His Exchequer, and Citezein and Stacioner of the Citie of London and late Warden of the Crafte of Stacioners.' The son William named in that will left in turn a will dated November 28, 1553 (P. C. C. More, 37), by which he devised 'to Elizabeth Sydley my daughter all my lands, etc., in Frensbury, in Kent,' with a bequest of money and plate and the injunction 'to my daughter Elizabeth, she to marry at her pleasure, by the counsel of her aunt, my sister [i. e., Dorothy, described in her father's will, before the dissolution of the monasteries, as 'a Norme in Dertford Abbey'], and of John, my son, her brother, and to have meat, drink and lodging till she be married or else be found in a good service.' That the Elizabeth so named was married to a Culpeper prior to May 14, 1574, appears from the reference to her in the will bearing that date (P. C. C. Pyckering, 5) of her brother Nicholas Sydley as 'my sister Elizabeth Culpeper;' while the will of her brother John, whose counsel she was to take, dated March 29, 1581 (P. C. C. Darcy, 31), completes the identification, in a bequest 'to my natural sister, Elizabeth Colepepir, wife of the said Mr. John CoIepepir, to make her a ring, ten shillings.'

She survived her husband and her eldest son as well, living in Newenden, i.e., at Losenharn (as shown by her son's inq. p. m.), and was buried in Salehurst, May 17, 1618, as 'Eliza, relict Johannes Culpeper, armiger.
and by her had
i Thomas Culpeper, 1561-1613, of Wigsell, of whom hereafter.

ii William Culpeper, 1562-1587, o.s.p.

He matriculated at Hart Hall, Oxon, 1579, as 'of Sussex, aged 17' (Foster), was admitted to the Middle Temple April 21, 1583, as '2d son of John Colepeper of Wigsell, esq.' and was there recorded in 1584 an 'inner barrister' (Hopwood, i, 260, 285). He was buried in Salehurst on January 29, 1586/7, as 'William the son of Mr. John Colepeper.' That he died unmarried is a deduction from the lack of reference to children by him in any of the succeeding family wills.

iii John Culpeper, 1565-1635, of Feckenham, co. Worc., of whom hereaf ter.

iv Cicely Culpeper, married in 1586, Sir William Stede of Harrietsham, Co. Kent.

The allegation for the mar. lic. at Canterbury, June 11, 1586 (Harl. Pub., xxv, p. 150) runs 'William Steed, gent., and Secilia Colepyr, spr., of city of London, dau. of John Colepyr of Wiggessell co. Sussex, gent.' The bridegroom was the eldest son, by her first marriage, of the second wife of the bride's uncle, Francis11. of whom hereafter.

v Sir Alexander Culpeper, 1570-1645, of Greenway Court, co. Kent, o.s.p.

He testified in his will that he was born in Salehurst, but the loss of the parish register prior to 1585 leaves the date to a deduction from his age at death. He was educated at the inns of chancery and was admitted to Grays Inn, November 25, 1594, as 'Alexander Culpeper of Wigsell, co. Sussex, gent., late of Staple Inn.' This would be when he was twenty-four. His next appearance on the surviving record is 1603, when at his marriage he was described as 'of Harrietsham, arm,' (indicating that he had established himself in the neighbourhood of the family of his uncle, Francis Culpeper11 of Greenway Court, of which hereafter); but is identified by the will of Thomas12 of Wigsell (1609) as 'my brother Alexander Culpeper' On his marriage he went to live in his wife's St. Leger dower house and thereafter is described as 'of Ulcombe' whenever he appears in documents (e.g., in the allegation for the mar. lic., 1636, of the youngest dau. of Thornas12 of Wigsell, noted post); but after his wife's death in 1636 he removed to Greenway Court, and so in his will described himself as 'of Greenway Court.' He was knighted by James I, November 19, 1621 (Nichols, iii, 732), as 'of Kent.'

The fullest record of him is in the dark days of the Troubles, which overtook him in the decrepitude of age. He then gave a loyal support to the Crown, with the result that his estate was sequestered. At a hearing held after his death, at which his executors claimed the privilege of compounding for his estate (Cal. Committee for Compounding, 1643-60, pt. ii, P. 1058), it was stated that he was 'never any house keeper,' that he had been 'drawn down to Oxford and Bristol' in March, 1643, but 'never bore arms,' being 'sick of a dead palsy,' and that he died at Bridgewater with the King's army, in August, 1645, aged 75. A fine of 1550 was assessed and paid. He left an elaborate will, which, in its provisions for all his nephews and nieces and their children, as well as others of the connection, is the key to the tangled genealogy of the next generation of the Culpepers. That will, [was] evidently drawn at Oxford, and probably by his nephew Thomas13 of the Middle Temple.

He m. 1603 Mary (who d. 1636), dau. of Sir Thomas Scott (1535-1594) of Scotshall in Smeeth, co. Kent, and widow of Anthony St. Leger of Ulcombe, co. Kent, who d. 1602.

The allegation for the mar. lic. at Canterbury describes the parties as 'Alexander Culpeper of Harrietsham, esq., and Mary Sentleger of Ulcombe, widow: at Harrietsham; John Culpeper (i.e., his brother, later of Feckenham.), of London, gent. bonds.' The mar. is recorded: in Harrietsham. parish register, December 7, 1603, by the same description translated into latin; in the pedigree of Scott of Scotshall, certified at the Visitation of Kent, 1619; and in Mr. E. Y. St. Leger's documented Stem.mata St. Leodigaria (1867) in Wykeham-Martin, Leeds Castle; finally she was buried at Ulcombe April 23, 1636, as 'Domina Maria Culpeper, uxor Alexander Culpeper, militis'. These interesting families, of Scott of Scotshall and St. Leger, implicit at once of the history of Kent and of Virginia (Cf. Brown, Genesis, ii, 990, 996), are fully discussed biographically in D. N. B.

Mary Scott had four sons and a dau. by her first husband, but no children by Sir Alexander Culpeper. Her eldest son was that Sir Warham St. Leger (1579-1632) who commanded his own ship in Raleigh's Guiana expedition of 1618 and in consequence of the losses then incurred was obliged to sell Leeds Castle. See post. Of his thirteen children recorded in the Stemmata St. Leodigaria, the three youngest are of special interest to Virginia, viz:

(11) Ursula St. Leger, m. Daniel Horsmanden, parson of Ulcombe, whose son, Warham. Horsmanden, emigrated to Virginia, was a member of the Council in 1657 and married his dau.. (widow of Samuel Filmer) to the first William Byrd of Westover (See Va. Mag., xv, 315; xx, 295, and Dr. Stanard's Byrd pedigree in Bassett, p. 446);

(12) Katherine St. Leger, who was adopted by Sir Alexander Culpeper12, and, as rehearsed post, married his nephew, Thomas Culpeper13 of Feckenham, one of the proprietors of the Northern Neck named in the charter of 1649, and was the mother of Frances Culpeper, wife of Sir William Berkeley, Governor of Virginia;

(13) Mary St. Leger, married William Codd of Pelicans in Waterinbury, co. Kent, whose son, St. Leger Codd, emigrated to Virginia and in 1671 was resident in the Northern Neck (Va. Mag., xxiii, 382, x, 374).

XII. Thomas Culpeper (John11), 1561-1613, of Wigsell, was probably born at Wigsell (his younger brother, Sir Alexander, testifies in his will that he was there born), but the evidence is lacking; the record of the surviving Salehurst register begins only with the burials of this generation. As a consequence, the proof of the date of his birth rests on his matriculation at Hart Hall. Oxford, in 1579, as 'of Sussex, aged 19' (Foster).
He was admitted 'generally' to the Middle Temple, April 21, 1583, as 'son and heir of John Culpeper of Wigsoll, Sussex, esq.,' and in May, 1596, was still in residence; but, being then recorded after thirteen years as no more than an 'inner barrister,'32 it is apparent that he had not pursued the law with the intention of a professional career (Hopwood, i, :260, 366).
It was this Thomas12 who inaugurated his family's interest in Virginia.
The explanation is patent. During the period of his residence at the Middle Temple that ancient college was a centre of the discussion, translated into action, of the voyages which lead to the English colonization in America. It suffices to cite the Middle Templars of this period whose names are on the American bead roll. Richard Hakluyt the elder, Sir John Popham, Walter Raleigh and his captains, Philip Amadas, Ralph Lane and Bartholomew Gosnold, were all members of the Society, as of a younger generation were George Percy, Richard Martin and the Ferrars (Bidwell). Our Thomas12 was undoubtedly in commons when Sir Francis Drake dined there in 1586 to be congratulated on his safe return from his voyage around the world, as he and his brother John must also have been in 1593 and 1594, when similar visits were paid by Frobisher and Hawkins. More than that, these Culpepers were members of the family connection of the sons of Archbishop Sandys who took the lead in the Virginia Company; while Thomas12 whetted his own appetite for colonial speculation by his marriage in 1597 with the daughter of a great London overseas merchant.
It was against such a background that Thomas Culpeper of Wigsell and John Culpeper, later of Feckenham, became subscribers to and members of The Treasurer and Company for Virginia under the second charter of May 23, 1609 (Brown, Genesis, i, 218; ii, 869); and it was with those subscriptions, made forty years before the date of the first Northerh Neck charter in which the subscriber's respective sons were to be named, that the history of the Northern Neck proprietary may be said to begin.
There is no further public testimony for Thomas12, but his personal record is amply documented. He died September 18th and was buried in Salehurst, September 19, 1613, as 'Tho. Colepeper, armiger,' leaving a will, followed by an inq. p. m.
He married. 1st, 1597, Anne, daughter. of Sir Stephen Slaney (1524-1609), Alderman of London,
Sir Stephen Slaney was one of the most picturesque of the Elizabethan Merchant Adventurers. Son of John Slaney, of Mitton, co. Stafford, but of a Shropshire family reputed to be derived from Bohemia (Visitation of Shropshire, 1623, Harl. Pub., vol. xxix), he went up to London to make his fortune and there embarked in the Mediterranean trade as what was later styled a Turkey merchant. On one occasion he was taken at sea by the Turks and had to sacrifice his entire fortune in ransom, but soon got on his feet again. In 1583 he was one of the committee appointed by the Merchant Adventurers of London to confer with Captain Christopher Carleill 'upon a Voyage intending to the uttermost parts of America,' but it does not appear that thereafter he took part in the plans for the colonization of Virginia. In 1584 he was chosen alderman and served the office of Sheriff, and in 1595 was Lord Mayor. He died in December, 1608, leaving a will dated August 2. 1598, and proved January 3, 1608/9 (P.C.C. Dorset, 5). His widow, Margaret, survived until 1619 and left a will dated October 12, 1612, followed by a codicil dated July 20, 1618, which were proved May 24, 1619 (P.C.C. Parker, 42).

These Slaney wills are the clews to the identification of the father of the first Lord Culpeper. That of Sir Stephen (1598) rehearses two daughters, including 'Anne, wife of Thomas. Colepepper, esq.' and that of his widow (1619) recites:

Whereas my son-in-law, Mr. Thomas Colepepper is lately deceased much indebted, and hath left his son and heire, Slanye Colepepper my-grandchild, a ward: and hath not left neither said Slanye Colepepper, nor John Colepepper his brother, nor Elizabeth Colepepper, his sister, being also my grandchildren, so sufficiently advanced as I did expect that he should have done.

Anne Slaney was buried in Salehurst, February 26, 1600/i, as 'Ann Colepepper, uxor Thomae, armigeri.'
and by her had:
i Elizabeth, 1598?-1683, married in 1620 Sir Robert Brooke of Cockfield Hall in Yoxford, co. Suffolk.

The identification with the Elizabeth named in the will of Dame Margaret Slaney is clinched by the mention of 'my sister Lady Brooke' in the will of the first Lord Culpeper and by the biographical funeral sermon preached by Lady Brooke's chaplain, Nathaniel Parkhurst, in 1683 (Cf. D. N. B., re-issue, ii, 1328).

ii Slaney, 1599-1618, o.s.p.

His first appearance on the surviving record is in the will of his father (1609) as 'my eldest son [when he] comes to the age of xxiiij years.' He is first named in the will of his maternal grandmother (1612) as 'Slanye Culpeper one of the sons of my dau. Anne Culpeper dec;' which is followed by the reference in one of his father's codicils (1613) to 'my sonne Slaney Culpeper' In his father's inq. p.m. (1614 it is stated that 'Slany Culpeper esq. is his son and heir by said Anne... and was 14 years, 10 months and 18 days at his father's death [September 18, 1613]. Finally, he is named in his grandmother's codicil (July, 1618), written a few months before his death, in the language already quoted.

He matriculated at Hart Hall, April 26, 1616, as 'of Sussex, aged 17' (Foster); and was admitted to the Middle Temple, February 6, 1617/18, as 'Mr. Slanye, son and heir of Thomas Culpeper, of Wigsell, Sussex, Esq. dec.' (Hopwood, ii, 625).

That he died at Lossenham (in Newenden) unmarried,'December 12, 1618, leaving his brother John his heir appears from the inq. p.m.

Slaney Culpeper, 1618
Chanc. Inq. P. M. Ser. 11, 374: 104.

Inquisition taken at East Greenwich co. Kent 6 May, 17 Jac [1, 1619] before... escheator after death of Slany Culpeper esq. who at his death was within age of 21 & in Wardship of King, by oath of... who say that sd S. Culpeper was seised in fee tail as heir of the body of Thomas Culpeper esq. dec. by Anne his wife dec. of a messe & lands etc. containing 280 acres in Newenden co. Kent in tenure of Edmund Hamond, late parcel of manor of Lossenham; & of 125 acres in Newenden afsd & Sandherst Kent in tenure of sd E. Hamond late parcel of same manor; & of site of Priory of White Friars etc.; & a marsh, containing 18 acres. in Newenden afsd: the reversion of all sd premises belonging to John Culpeper & Alexander Culpeper esquires in fee. Sd S. Culpeper was selsed in fee tail as heir male of sd T. Culpeper by Anne his wife of manor or farm of Wigsell containing 600 acres in Saleherst, Sussex; & of 12 acres of land in S. afsd. & Bodiam, Sussex [i. e., the land which John1? of Feckenharn held in 1612] in tenure of Thomas Duncke, reversion as before. Sd messe & 280 acres in Newenden are held of King as of his county of Hertford by knights service & are worth £3 a year. Sd 125 acres in Sandherst [and Newenden] are held similarly & are worth 20s. a year. Whitefriars afsd etc. are held of King as of his manor of East Greenwich in socage & are worth 10s. a year. Manor of Wigsell & 600 acres in Salehurst are held of Thomas Pelham, Bt. as of his castle of Hastings, co. Sussex by knight service & are worth £10. Sd 12 acres in Salehurst & Bodiam are held of Ralph Bossevile, knight & Thomas Levite, gent. as of their manor of Bodiam in socage & are worth 3s. 4d. a year. Sd S. Culpeper died at Newenden co. Kent, a minor, in Wardship of King, on 12 Dec. last [1618]. John Culpeper is his only brother & heir, & heir of the body of sd Thomas Culpeper by Anne his wife, & is at taking of this Inq. under 21, viz. 18 years 9 months & 9 days & no more. Sd. S. Culpeper held no other land.

Inq. p. m. Wards & Liveries 59:106 similar.

iii John, 1600-1660, first Lord Culpeper, of whom hereafter.
Thomas Culpeper married, second, 1605, Mary, daughter of Roger Beeston, of Lon, don, and widow of Francis Gibbon,
Her husband's will (1609) refers to her as 'my now wife... Mary,' and to 'her mother Baistone.' The other evidence for her is her will (LINK), from which it appears that she survived until 1661, living in Frittenden, co. Kent.
and by her had:
iv Mary, 1606, ob. unmarried.

She was baptised in Salehurst, August 10, 1606, as 'Maria Culpeper filia Thomae, armigerl,' but is not further identified. The language of her father's will, supplemented by the fact that she is not named in her mother's will, indicates that she died in infancy, and was probably buried in Hawkhurst or Newenden.

v Thomas, 1607, ob. infans.

The entry in the Salehurst register of his baptism, December 13, 1607, is 'Thomas Culpeper filius Thomae armigeri, permissione baptisatus fuit, ecclesia de Haukehurst;' but he was buried in Salehurst, December 30, 1607, as 'Thomas Culpeper filius Thornae, arm.'

vi Filia, 1608.

The Salehurst register records the burial, December 5, 1608, of 'filia Thomae Culpeper arm. inbaptizata.'
vii Cicely, 1610-1620, unmarried.
She was baptised in Salehurst, July 8, 1610, as 'Cicelie Culpeper filia Thomae, arm.' and buried there January 17, 1619/20 as 'Cicely Culpeper filia. Thomae, esq.'

viii Anna, 1611-post 1660, married in 1636 Thomas Scott of Smeeth, co. Went.

The Saleburst register records the baptism, November 10, 1611, of 'Anna Culpeper filia Thomae, arm., permissione baptizata erat apud Hawkhurst.' Her next appearance is in a mar. lic. at Canterbury, October 7, 1636, viz: 'Thomas Scott of Smeeth, bach. about 21 son of Robert S. of same, who consents & Ann Culpeper of Frittenden, virgo. who, her father being dead, is now under the government of Sir Alexander Culpeper of Ulcomb, Knight, who also consents.' The marriage was recorded among the Scotts of Scot Hall at the Visitation of Kent, 1663. Her mother's will names 'Thomas Scot... and my dau. his wife,' indicating that she survived her mother.

Footnotes
31 The other three were (i) the John who was admitted to the Inner Temple from Barnard's Inn in 12 Henry VIII 0520) and appears on the Inner Temple records until 1553, when he was 'pardoned all offices' (Inderwick, Inner Temple Records, i, 54, 66, 16q, 244). We take him to be the John10 of the Bedgebury family; (2) the John, whom Foster enters as 'of Kent, Hart Hall, 1569, aged 14,' whom we take to be the john'l of Bedgebury; and (3) John1l of the Aylesford family, who was admitted to Grays Inn, 1553, and died 1561, leaving a will (P. C. C. Streat, 5). (Return)
32 Cf. T. Denton's report in 1545 to Henry VIII on the Inns of Court:
The whole company and fellowship of learners is divided into three… degrees:... Benchers... Utter barristers, and Inner Barristers. Utter barristers are such that for their I ' earning and continuance are called by the Readers to plead and argue in the said house doubtful cases and questions... and are called Utter Barristers for that they, when they argue the said Motes, sit uttermost on the formes which are called the Barr; and this degree is the chiefest... in the house next the Benchers. All the residue of learners are called Itmer Barristers, which are the youngest men. (Return)
Last Revised: 02 Jan 2015