The Minute Battalion of
Culpeper County, Virginia
1775 - 1776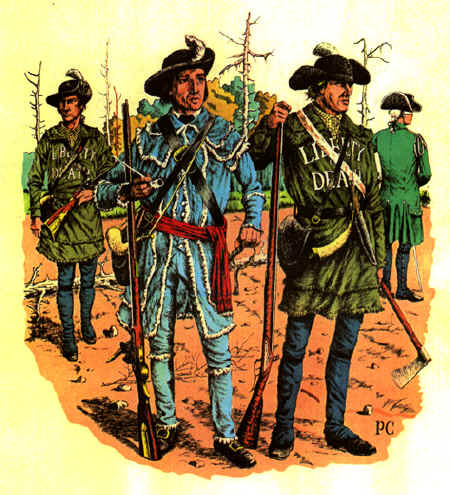 Left to Right: Private Man, Officer in Captain Taliaferro's Company, Private Man, Officer in Captain Wm. Pickett's Company
Military Uniforms in America Plate No. 259
Copyright 1973 by Company of Military Historians
Provided to Culpepper Connections! by Chip Culpepper who received it from Gene Norris Culpepper.

Historical Background
At the Virginia convention held May, 1775, in Richmond, the colony was divided into 16 districts and each district instructed to raise the discipline a battalion of men "to march at a minute's notice". Culpeper, Fauquier, and Orange, forming one district, raised a cadre of 350 men called the Culpeper Minutemen. Organized July 17, 1775, under a large oak tree in "Clayton's old field" (later known as Catalpa Farm), the Minutemen took part in the Battle of Great Bridge, the first Revolutionary battle on Virginia soil. The Culpeper Minutemen flag is inscribed with the words, "Liberty or Death" and "Don't Tread on Me".
In 1860 the Culpeper Minutemen were reorganized under the rattlesnake flag. The company's staff was organized under the same oak tree where the Minutemen of 1775 were formed. When war came the men were mustered in under Co. B, 13th Infantry. Other Culpeper companies organized for Confederate service were the Little Fork Rangers and Brandy Rifles.
A great deal of action took place in the county during the war, and several battles - notably Cedar Mountain and Brandy Station - and engagements were fought on Culpeper soil. Both armies marched through, fought, and camped in the county repeatedly during the four-year struggle. During the winter of 1863-64, Grant's Army of 100,000 men camped within its borders.
The Culpeper Minutemen were again mustered into service for the Spanish-American War but did not see active duty. In World War I the Minutemen company lost its identity as it was absorbed in the 116th Infantry, 29th Division.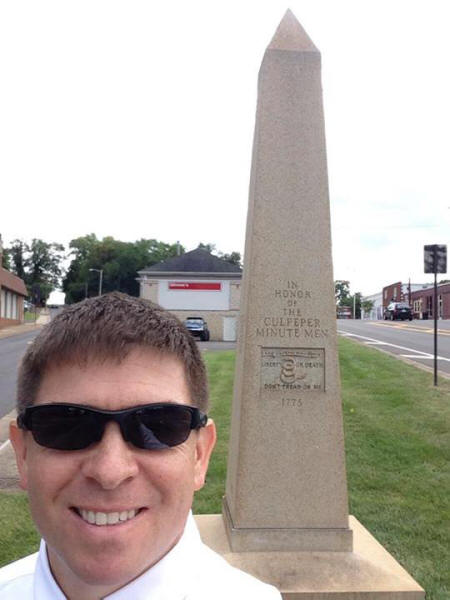 Patrick John Culpepper (Major, US Army) at the Culpeper Minutemen Monument
September 2013. John also provided the pictures below.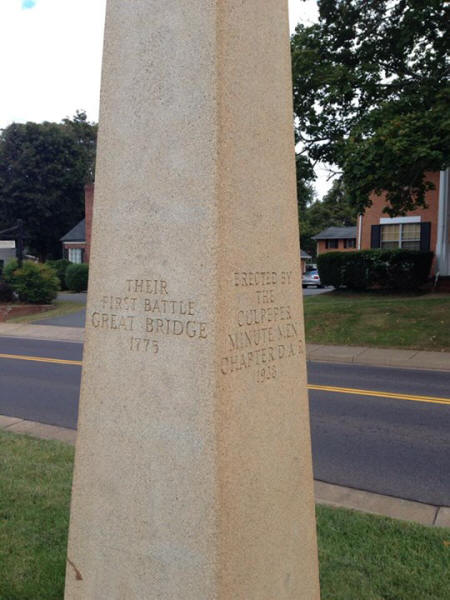 Last Revised: 02 Jan 2015