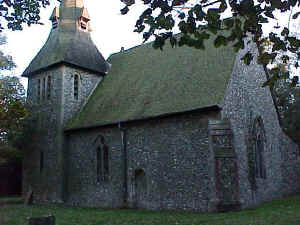 Culpepers at St. Margaret's
Wichling (pronounced "Which-ling" and sometimes spelled Wychling, Witchling or Wickling) is a hamlet, 4-5 miles northeast of the Culpeper-significant villages of Hollingbourne, Harrietsham and Lenham.

The Rev. William Culpeper12w was presented as Vicar at Wichling

He was licensed to marry 29 Apr 1633, as 'William Culpeper clerk, M. A., parson of Wychling, bach. about 28, to Margaret, dau. of the worshipful Richard Allen, D.D., parson of Stouting.'

Fairfax Harrison, in The Proprietors of the Northern Neck, stated his belief that William was the son of Edmund Culpeper11w, Canon of Lincoln.

William subsequently emigrated to Barbados and is the progenitor of the Barbados Culpepers and the South African Colepepers.
Related Pages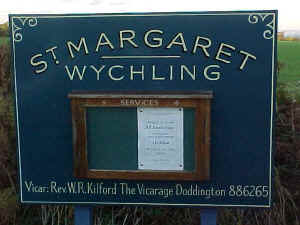 St. Margaret's Church, Wichling

Location: 20 miles NE of Goudhurst.

National Grid Coordinates: TQ 916 557

1831 Topographical Dictionary
WITCHLING, a parish in the hundred of EYHORNE, lathe of AYLESFORD, county of KENT, 2½ miles (N.N.E.) from Lenham, containing 137 inhabitants. The living is a discharged rectory, in the archdeaconry and diocese of Canterbury, rated in the king's books at £4. 1. 8., endowed with £200 private benefaction, and £200 royal bounty, and in the patronage of Thos. W. Wrighte, Esq. The church is dedicated to St. Margaret.