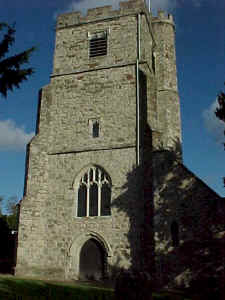 All Saints, Oct 1999
Culpeper connection with All Saints, Ulcombe
Thomas Culpeper13f of the Middle Temple in 1628 married Catherine St. Leger, and their first daughter, Mary, was baptized at Ulcombe, the historic seat of the St. Legers.

One monument in the church is to Sir Anthony St. Leger, the grandfather of Catherine, and the great-grandfather of several notable Virginia Culpeppers, including:
Alexander Culpepper14f, Surveyor General of Virginia and one-sixth proprietor of the Northern Neck.
Frances Culpepper14f, who married three American governors

| | |
| --- | --- |
| | Samuel Stephens, governor of Albemarle (NC) |
| | Sir William Berkeley, Governor of Virginia |
| | Philip Ludwell, Governor of Albemarle |

John Culpepper14f of Hollingbourne, thought by Fairfax Harrison to be the Carolina Rebel. Later research casts considerable doubt on Harrison's theory.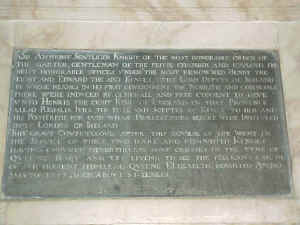 Monument to Sir Anthony St. Leger
St. Leger Chapel in All Saints Church
The north chapel known as the St. Leger Chapel, was built in the Tudor period and contains a St. Leger memorial window. The brasses which are to be found in the chapel are very fine. One is of Rudolph St. Leger and his wife and is dated 1470; another is believed to be John St. Leger, who died in 1442.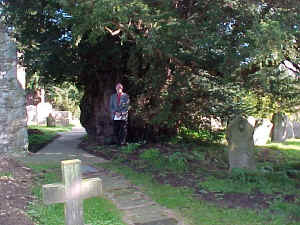 The Ancient Yew at Ulcombe and
Warren Culpepper, Oct 1999
Church History
The church at Ulcombe is on a site that dates back to Norman times, and the current structure embraces part of the original.

In the churchyard are yews that are estimated variously from 1,000 to 3,000 years old.

Between 1213 and 1215, a college of priests was established at Ulcombe on the petition of Ralph St. Leger.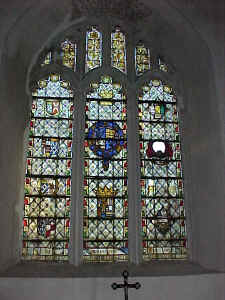 St. Leger Window
All Saints Church, Ulcombe
Location: N of Ulcombe Village, on the west side of Ulcombe Hill road (11 miles NE of Goudhurst.)
National Grid Coordinates: TQ 847 498
1831 Topographical Dictionary
ULCOMBE, a parish in the hundred of EYHORNE, lathe of AYLESFORD, county of KENT, 7¼ miles (S.E. by E.) from Maidstone, containing 668 inhabitants. The living is a rectory, in the archdeaconry and diocese of Canterbury, rated in the king's books at £16. 5. 10., and in the patronage of the Hon. C. B. Clarke. The church, dedicated to All Saints, is principally in the later style of English architecture; it was formerly collegiate, for an archpresbyter, two canons, a deacon, and one clerk. The parish lies partly in the Weald, and is intersected by several small streams, which empty themselves into the Medway.