Hever, Kent
Rectory at Hever
In consequence of the act passed in 1515 for the surrender of all religious houses with less than £200 of clear yearly revenue, the advowson of the rectory of Hever came to the Crown (Henry VIII) in that year. Soon afterwards, this advowson was granted, along with the site of the priory, to Thomas Culpeper10b of Bedgebury. He didn't hold it long, and it appears by the Escheat Rolls to have come again into the hands of the crown, and was granted by the king in 1542 to Sir John Gage, to hold in capite by knights service. Sir John exchanged it again with Thomas Culpeper (evidenced by an act passed the year after). His son and heir, Sir Alexander Culpeper11b of Bedgebury, had possession granted of sundry premises, among which was the advowson of Hever, held in capite by knights service in 1555-6. The year after it was, among other premises, granted to Sir Edward Waldegrave to hold by the like tenure. (Hasted Volume III, pages 200-201).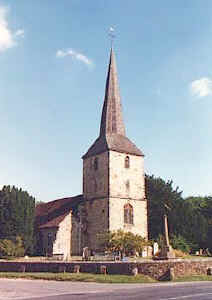 St. Peter's Church, Hever
Ancient Parish.
Original registers from 1632.
Location: On Hever Road, in the middle of Hever
National Grid Coordinates: TQ 476 448
In the north chancel there is a magnificent tomb of Sir Thomas Boleyn, Earl of Wiltshire and father of Queen Ann Boleyn.
In the belfrey there is a stone with a brass plate and French inscription for John Cobham, Esq., (died 1399) and Joan Lewknor, his wife. The same arms are displayed for John as were used by the Sterborough Castle branch of the Cobhams. Alianora (Eleanor) Culpeper, daughter of Sir Thomas Culpepper6bh of Bayhall, Hardreshull and Exton, married Sir Reginald Cobham of Sterborough Castle.
There is no evidence of any Culpeper presence at this church.
Hever, Kent
Location: 20 miles WSW of Maidstone and 17 miles WNW of Goudhurst
National Grid Coordinates:
Village: TQ 476 448
Castle: TQ 478 452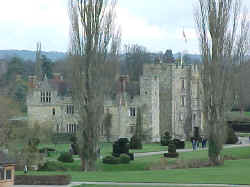 The tiny village of Hever, near Edenbridge, is set in delightfully unspoiled countryside, with orchards and woodlands surrounding it. Most visitors, impressed as they may be with this tidy settlement, make for the star attraction here, and the reason why Hever figures prominently on anyone's checklist of things to see in Kent.
The village is the site of Hever Castle, which is redolent of history and more than a little tragedy. The castle achieved its present form in 1272 when Sir Stephen de Penchester received permission from Edward I to convert his house at Hever into a castle. The massive Gatehouse, the outer walls and the moat strengthened its position as a fortification.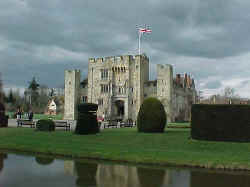 Two centuries later the Boleyn family bought the castle and rebuilt much of it, adding a comfortable Tudor residence inside the walls. It was here that the ill-fated Anne Boleyn, mother of Elizabeth I, was courted by Henry VIII. The castle still contains many mementoes of her. In 1903 Hever Castle was bought by American millionaire William Waldorf Astor, who restored the original buildings and set about building the "Tudor Village", gardens and lake. All of these can be visited, as well as Hever Castle itself, with its fine collections of paintings, furniture and varied objets d'art. Hever Castle, Hever, near Edenbridge, Kent TN8 7NG, Tel: 01732 865225
Source: Sean Connolly, Ed., The Hidden Places of Kent, Travel Publishing, Ltd., 1998., pages 71-72.
Photographs taken by Warren Culpepper, March 2000.
Postscript by Warren Culpepper: I found Hever Castle to be quite interesting and well worth a visit. However, I could find no evidence of a Culpeper presence at the castle.
1831 Topographical Dictionary of England
HEVER, a parish in the hundred of SOMERDEN, lathe of SUTTON at HONE, county of KENT, 8½ miles SW from Tunbridge, containing 606 inhabitants. The church, dedicated to St. Peter, contains a magnificent monument of the Boleyn family.
The castle, the seat of that illustrious house, is a very ancient building, defended by a moat, drawbridge, portcullis, and tower. It was the residence of Sir Thomas Boleyn, father of Ann Boleyn, queen of Henry VIII, who is stated to have been born here, and here Anne of Cleves died. The chamber of Ann Boleyn is still called by her name, and several other curious mementos are shown to visitors.
Hever Castle's "Haunted House Story"
The ghost of Anne Boleyn is said to return to her old home at Hever Castle, where every Christmas Eve she is seen to walk over the bridge which crosses the River Eden in the castle grounds.
The great oak, under which Henry VIII courted Anne, still stands. Her ghost has been seen there as well, usually at Christmas time.
Another ghost at Hever is that of a local farmer, called Humphrey, who was robbed and killed there.
Source: Ghosts of the Southeast, a web site describing haunted houses in Southeastern England.
Last Revised: 02 Jan 2015