East Farleigh, Kent
Gallants Manor and Court
"The manor house at Gallants has an ancient appearance, both within and without. The doors and windows are arched and cased with stone. Much of the walls are built with flint. After the death of Walter Culpeper4a at Tonbridge in 1 Edward III (circa 1327), the manor of Gallants passed to his sons, Thomas, Geoffrey and John, and afterwards to the Roper family." (Hasted's Kent, Vol. IV, pp. 377-378).
<![if !vml]>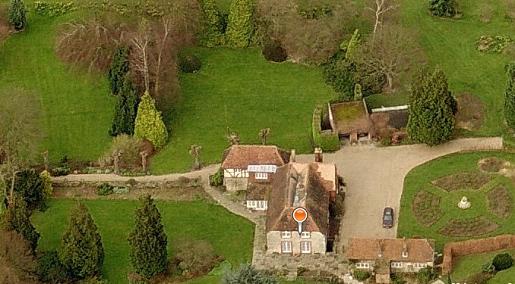 <![endif]>
Gallants Manor
Photograph from Multimap.com (search ME150LF)
provided to Culpepper Connections in Nov 2010
by Duncan Spencer, chairman of the East Farleigh History Society.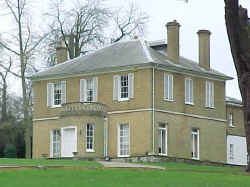 Gallants Court (right) is on the other side of the road and about two hundred yards down the hill from Gallants Manor (above).
Gallants Manor/Court Location: 0.5 miles W of East Farleigh, just S of the B2010.
National Grid Coordinates: TQ 727 532
Photograph taken by Warren Culpepper, March 2000.
Culpepers "of East Farleigh"
| | |
| --- | --- |
| | Walter Culpeper4p of East Farleigh and Preston Hall, 1275-1321. Son of Sir Thomas Culpeper3bh of Bay Hall. Walter, as the Castellan of Leeds Castle, refused entrance to Queen Isabella in 1321, and for which he was executed by Edward II. |
| | Thomas Culpeper5a of Gallants in East Farleigh, 1307-aft.1351. He married Joanne and was the son of Walter4p. |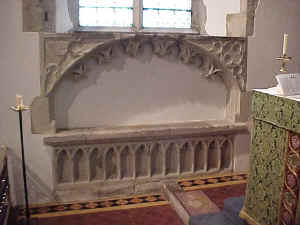 The tomb of Thomas Culpeper of Gallants (1307-1351+)
St. Mary's Church in East Farleigh, Kent
The Culpepper coat of arms may be faintly seen in upper left corner of arch
above the tomb. Photograph taken by Warren Culpepper, March 2000.

| | |
| --- | --- |
| | John Culpeper6a of East Farleigh, c.1332-aft.1382. John, the son of Thomas, was a member of Parliament for Kent in 1382. |
| | Richard and Ralph Culpeper9a of East Farleigh, sons of Peter Culpeper and 1st cousins twice removed of John Culpeper6a of East Farleigh. |
St. Mary's Church
On the north side of the rector's chancel in St. Mary's Church is an ancient arched tomb with the Culpeper arms (drawing above) thought to be that of "Sir Thomas Culpeper5a of Gallants", who was reputed to be the church's founder. His arms, quartered with those of his mother, Joanne Hardreshull (argent, a chevron gules between nine martlets) also are found in the east window of the south chancel, called Pimpe's chancel. (Hasted's Kent, Vol. IV, pp. 380-381.).
St. Mary's Church, East Farleigh, Location: On the B2010, in the middle of East Farleigh.
National Grid Coordinates: TQ 734 533
East Farleigh
East Farleigh stands among the orchards of the Medway Valley. The village itself is high above the river but there is a fine medieval bridge crossing it below. Dating from the late 15th century, the bridge spans the 100 yard wide Medway in five graceful arches. Cromwell's New Model Army, under Fairfax, crossed this bridge in 1648 to take Maidstone in one of the most important engagements of the Civil War. The battle left 300 Royalists dead and more than a thousand taken prisoner. The bridge is now a national monument. (Source: Sean Connolly, The Hidden Places of Kent, Travel Publishing Ltd., 1998, p. 96)
1831 Topographical Dictionary:
FARLEIGH (EAST), a parish in the hundred of MAIDSTONE, lathe of AYLESFORD, county of KENT, 2½ miles (S.W. by W.) from Maidstone, containing 1143 inhabitants. The church has at the west end a tower and spire. An ancient stone bridge of five arches crosses the Medway at the entrance to the village.
East Farleigh Location: 10 miles N of Goudhurst and 2 miles SW of Maidstone on the B2010.
National Grid Coordinates: TQ 734 533
Last Revised: 02 Jan 2015