Cranbrook, Kent, England
Glassenbury Manor
(aka Glassenbury Park)
Isabel Culpeper, born circa 1473, daughter of John Culpeper8bh of Bayhall, Hardreshull, and Bedgebury, was the second wife of Walter Roberts of Glassenbury (c1442-c1522),
Glassenbury Location: The moated house of Glassenbury sits east of the B2085, about half way between Goudhurst and Cranbrook.

National Grid Coordinates: TQ 747 367
Listing for Glassenbury Park on Britannia.com website (December 2001)
This beautifully situated house was originally built in 1475 for Walter Roberts using materials from the older house it replaced. It was Walter who had the moat dug around the house and enclosed the park. In 1730 a Sir Walter Roberts rebuilt the house with a symmetrical Georgian façade.

The house is constructed of brick with stone quoins under a tiled roof and is crowned by a very large stone-banded chimneystack.

In 1860 Colonel Thomas Walton Roberts enlarged the house for extra comfort and additional living space. The Georgian front was altered in 1877 by Salvin the famous Victorian architect. Then in 1940 Malcolm Atkin-Roberts died and left the estate to his sister the Baroness Nettlebladt thus ending the Robert's unbroken line of some 700 years of occupancy. They are believed to have acquired the property originally from the Tyllye family, by marriage, in the 13th century.

Home restoration back to the Georgian house took place during the 1950s removing all the Victorian embellishments.

The porch entrance leads into the hall which has its original wood panelling from 1571, a fine stone fireplace with a beautiful carver oak overmantle and the main staircase. The drawing room is a large, light and comfortable room. The dining room has a French door, which leads out onto a terrace. The morning room and the library are both fully panelled with the former having a handsome carved chimneypiece. Other rooms on the ground floor include the kitchen, utility room and breakfast room and there are cellars below.

On the first and second floors can be found ten bedrooms, some of which are wood panelled, a large sitting room and a family room. There are also six bathrooms in the house.

In the grounds there is a converted coachhouse and a stable block as well as two gate lodges.

A stone pillar in the grounds marks the spot where Napoleon's horse 'Jaffa', which he rode at Waterloo, is buried. This fine horse spent its retirement at Glassenbury. Wellington's horse 'Copenhagen' is buried at the Duke's seat of Stratfield Saye.

The gardens and park are superb and beautifully kept. Water abounds with a series of ponds and of course the moat.

This is a very beautiful Grade II* listed Manor House set in enchanting surroundings in its own secluded valley. It is currently being offered for sale through the agent Knight Frank International at their Tunbridge Wells office. Offers are invited in excess of £8,000,000.
Excerpts from an e-mail from Clem Browne, who would like to locate other students who once attended a pre-WW-II school at Glassenbury.
21 Apr 2001

I spotted your e-mail address a short time ago while attempting to use a search engine to find out anything I could about the school I attended for several years as a youngster. ... I now reside in New York State adjacent to the border with Canada.

From autumn of 1938 to spring 1940 I attended Glassenbury Park School, near Cranbrook, Kent. My parents, sister and I had fled from Vienna some months after the Nazi Anschluss in March of '38. As said, I came to Glassenbury later that year; I didn't speak a single word of English when I arrived, but as I remember matters, within a very short time language was no longer an issue.

I clearly recall the "castle" -- though I'm not sure that is technically the proper term for the main house! -- and certainly also the moat. There were several resident swans. Also fish in the water ... pike as I remember it, and there was concern these were a menace to recently hatched ducklings.

Approximately 20 boys were enrolled at that time, ranging in age from about seven through early teens. I have clear recollections about some of my fellow students, who came from a wide array of socio-economic backgrounds. There were for instance two Spanish boys, one of whom was in Franco's camp, while the other was allied with the opposition ... the staff had to strive to keep them at bay. There was also an Irish boy who took a lot of flak everytime there was a mailbox bomb in London, or something similar, even back in those times!

The headmaster was one Alan Burr. The staff was minimal I believe, consisting of one young male teacher and a matron. I seem to recall that the whole estate was owned at the time by a Baron Nesselbladt (my spelling is probably off ... there could be many variations, but the basic name I'm sure of), who along with his family occupied part of the large building. The grown son (possibly already in his 30s?) was fond of hunting, and I have visions of him attired in tweeds and shouldering a shotgun heading out regularly.

I vividly recall the start of WWII in September '39, and the food rationing and gas masks which rapidly followed. In late spring or early summer of '40, the school was dissolved owing to its location in the flypath for German planes heading toward London. I along with most of the boys, plus Burr, were transferred to a school in the Midlands the name of which I cannot remember. What I do remember is spending a really nice summer there (no schoolwork!), with tours of farms and canals and lots of biking and assorted fun Then, in August I returned to London just in time to re-join my family for the trip to America (via Duchess of Athol out of Liverpool).

I lived in the U.K. again from '65-'68, during which period I managed European business for a U.S. employer. One day I drove from our rented house in Farnham, Surrey to visit the former school, wondering what I'd find. Well, it turned out there was no longer a school operating there. There was a very pleasant youngish family living on the premises as I recall, and the woman related to me that a considerable portion of the structure had had to be taken down due to advanced dry rot in the timbers...

Do you have some thoughts as to where I might turn to possibly establish contact with any of the "boys" who attended Glassenbury in the late '30s?!

Regards,
Clem Browne
(my surname in those days before it was Anglicized was Braun)
E-Mail (as of Feb 2004)
Coursehorn (Copshorn) Manor
The modern-day Coursehorn was Copshorn of the 16th century.
Hellen Hendley (1524-1606), wife of Sir Thomas Culpeper10bh of Bedgebury, was the daughter of Walter Hendley of Copshorn in Cranbrook.
Today, Coursehorn is the site of Dulwich Preparatory School. (The photograph below is from the school's website.)

From an e-mail of 2 Mar 2002:
...We have recently named our old library the Henley Room after the manor's first owners. The original moated house appears to have been 14th century but is understood to have been largely destroyed in the Civil War. The existing building is largely 18th century but with some Tudor ceilings.

John Hendy
Coursehorn Location: South of Golford Road, 2 miles E of Cranbrook
National Grid Coordinates: TQ 793 358
St. Dunstans Church, Cranbrook
Cranbrook, in the midst of Culpeper country, was not actually a seat of the Culpepers, but two Culpeper spouses married into Cranbrook families.

Hellen Hendley (1524-1606), wife of Sir Thomas Culpeper10bh of Bedgebury, was the daughter of Walter Hendley of Copshorn (Coursehorn) in Cranbrook.

An unusual monument (pictured below) is found on the east wall of the chapel. Placed there in 1770, it recites the genealogy of the Roberts family. One of the names on the monument is Walter Roberts of Glassenbury (c1442-c1522), whose second wife was Isabel Culpeper, daughter of John Culpeper8bh of Bayhall, Hardreshull, and Bedgebury.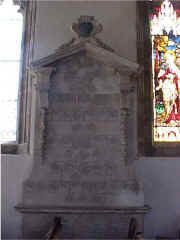 Location: At the end of High Street in the middle of Cranbrook.

National Grid Coordinates: TQ 777 362
Photographs by Warren Culpepper, March 2000.
Cranbrook, Kent
Cranbrook is an old town which sprang into prominence in the 15th century when it became the center of the weaving industry. Several old buildings date back to this prosperous period and the winding streets, well away from any main road, are lined with weather-boarded shops and houses. The parish church, St. Dunstan's, was built in the 15th century and is known locally as "the Cathedral of the Weald". Above the porch is a room known as "Baker's Jail", where "Bloody Baker" incarcerated the Protestants he had convicted before their execution. Dominating the town, however, is the Union Mill, a three-story windmill built in 1816. Standing 72 feet high it is the second tallest in England. It is open to the public certain times of the year.
Source: Sean Connolly, Hidden Places of Kent, 1998, pages 77-78.
1831 Topographical Dictionary
Cranbrook, a market town and parish in the hundred of Cranbrook, lathe of Scray, county of Kent, 14 miles SE from Maidstone, and 48 miles ESE from London, containing 3683 inhabitants. This place, anciently called Crane-broke, derives its name from its situation upon a brook called the Crane. When the manufacture of woolen cloth was introduced into England by Edward III., it was principally carried on in the Weald of Kent, and Cranbrook, situated in the center of that district, became, and continued to be for centuries, a very flourishing town, and the principal seat of the clothing trade, by the removal of which into the counties of Gloucester and Somerset, within the last fifty years, the trading importance of this town has been almost annihilated. The town consists chiefly of one wide street, extending three quarters of a mile in length, from which a smaller street branches off at right angles: it is indifferently paved, and partially lighted, contains some well built, handsome houses, and is well supplied with water. The trade is now principally in hops which is carried on to a considerable extent... The market-house, a neat octagonal building supported on double columns at the angles, and surmounted by a cupola, was erected by William Coleman, Esq., a great benefactor to the town...
The church, dedicated to St. Dunstan, is a spacious handsome structure in the later style of English architecture, with a square embattled tower... In the hamlet of Milkhouse-street, in this parish, are the remains of an ancient chapel, dedicated to the Holy Trinity. There are several mineral springs in the parish, the properties of which are similar to those of Tunbridge Wells. Sir Richard Baker, author of the English Chronicles, was born in this parish, about the year 1568. The celebrated William Huntington, late minister of Providence chapel, Gray's Inn Lane, London, and founder of a sect called ";Huntingtonians," holding high Calvanistic principles, was born at a place called "the four wents," in the parish of Cranbrook...
Location: On the A229, 4 miles E of Goudhurst and 12 miles S of Maidstone.
National Grid Coordinates: TQ 775 360
Last Revised: 02 Jan 2015