Naylands in Balcombe
The picture at the right is that of Naylands in Balcombe, West Sussex. It's a modern day working farm once occupied by 16th century Culpepers. The first Culpeper there was George9wk (abt. 1490-1543), grandson of Walter Culpeper7b of Goudhurst, Bayhall and Hardreshull, a direct ancestor of the modern-day Culpeppers.

The drawing at the lower right illustrates the appearance of Naylands in the 19th century. The old multiple chimneys that are apparent in the hundred year old drawing are still visible today.

The Culpeper owners of Naylands in Balcombe

| | |
| --- | --- |
| | George Culpeper9wk of Naylands (abt. 1490-1543), son of Nicholas Culpeper8wk of Wakehurst, son of Walter Culpeper7b of Goudhurst, Bayhall and Hardreshull. |
| | William Culpeper10wk of Worth (abt. 1528-1568), son of George Culpeper9wk of Naylands. |
| | George Culpeper11wk of Naylands (abt. 1552-1623), son of William Culpeper10wk of Worth. |
| | Thomas Culpeper11wk of Naylands (1531-1602), who purchased Naylands from his second cousin, George Culpeper11wk of Naylands. Thomas was the son of John Culpeper10wk of Wakehurst, son of Richard Culpeper9wk of Wakehurst, son of Nicholas Culpeper8wk of Wakehurst.) |


Naylands in Balcombe, March 2000
Photo taken by Warren Culpepper


Naylands in Balcombe, 19th Century

Naylands Location: On Haywards Heath Road, about 1 mile SE of Balcombe

National Grid Coordinates:
TQ 317 298
St. Mary's Church at Balcombe
National Grid Coordinates:
TQ 308 306


Church was not visited, and further research is needed to see if there are any Culpeper memorials in this church where at least two Culpepers were known to have been married and one buried:
| | |
| --- | --- |
| | Alice Culpeper, daughter of George9wk, married George Nynne in 1554 |
| | Alice Culpeper, wife of George9wk, was buried at St. Mary's in 1574. |
| | Richard Culpeper10wk of Moulsecoomb, son of George9wk, married Barbara Milles, 30 May 1575. |
Balcombe, West Sussex
The rural parish of Balcombe is noted for its beautiful woods and scenic waters of lake, millpond and reservoir. The mainly dairy farms are as well tended as the forested areas. A network of footpaths enables the visitor to enjoy the parish, particularly beautiful in spring and autumn.
The village centre, with buildings from various centuries, has shops, Post Office, Tea-rooms and a pub. A substantially built Village Hall and Social Club, provide a focus for many activities. The Hall has interesting murals on the theme of War and Peace, painted in fresco technique, just after the 1st World War. 55 'Listed Buildings' in Balcombe, include the Parish Church of St. Mary, with its 15th Century tower and many timber framed buildings. Fine stone and later brick houses and the famous Balcombe Viaduct also merit inclusion.
Source: West Sussex County Council Web Site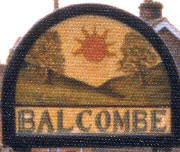 Balcombe Etymology
Ball was a celtic word for a ball, and by extension the sun. Combe is the english corruption of the welsh word Cwm which means valley. Thus Balcombe is literally "sun Valley". Another version says Bal means village (as it does in Bailliwick), so it is a "Village i na Valley" Finally another person claims Bal is a corruption of the french belle, so it is a "Beautiful Valley". One way or the other it is a pleasing image. My ancestor left Balcombe about 1660, thence to America, thence to Nova Scotia, thence to British Columbia, where I now live. (Etymology and photograph from Graeme Balcom)
1831 Topographical Dictionary
BALCOMB, a parish in the hundred of BUTTINGHILL, rape of LEWES, county of SUSSEX, 4½ miles N from Cuckfield, containing 606 inhabitants. The church is dedicated to St. Mary.
Village of Balcombe Location:
On the B-2036, 30 miles WSW of Goudhurst, and 8 miles SSE of London's Gatwick airport.
National Grid Coordinates: TQ 308 306