Arreton Manor: Lord Culpeper's home with a thousand years of history
By Christine Webb
14 Oct 1998
© The Times of London
News International, 1F3, Page 2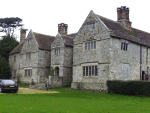 From Alfred the Great to Eisenhower, houses with a past are coming on to the market, says Christine Webb
Whoever snaps up Arreton Manor on the Isle of Wight will be buying a piece of history. The mellow stone house three miles from Newport belonged to Alfred the Great; a copy of the 885 will, in which he left it to his younger son, Etherward, can be seen in the Long Room as the Grade II* listed house is open to the public.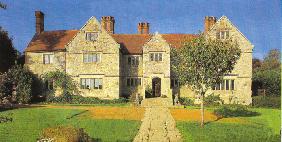 In 1086, Arreton Manor was mentioned in the Domesday Book, that noted, "King Edward held it," adding, "the whole Manor in King Edward's time worth ten pounds, and afterwards and now eight pounds," which goes to show that property slumps are not new.
The manor was endowed to the Convent of Quarr in 1156, and was farmed by the Abbot's steward, but was snatched back by Henry VIII around 1536 during his dissolution of the monasteries. The house was largely rebuilt between 1595 and 1612, although some 14th-century features were kept. The hall is built partly on the site of the old Great Hall, and retains a monastic screen erected in 1396.
Charles I visited the manor several times - perhaps it was for his sake that a secret room was hidden behind a closet in the West Bedroom, which could be entered through the side of a chimney. The King granted the manor to trustees to help to repay his debts to the City of London, and it was bought by two London merchants.
It was sold on twice, the second time to Lord Culpeper [Thomas, Second Lord], Governor of the Isle of Wight, who left it to his daughter, Lady Katherine, who married Lord Fairfax, known as "The coloniser of Virginia". It stayed in that family for 230 years.
It is a thrill to think how many crowned monarchs passed through the house's entrance door, which is almost certainly original. The fireplace in the dining parlour has a fireback bearing the Royal coat of arms, brought from one of James I's palaces in 1605. Queen Mary often visited, as did Queen Victoria, who planted a conifer on the south lawn.
Now the distinguished manor is about to be launched on the market by Knight Frank's Winchester office at Pounds 550,000. It would make a superb private country home, but there is also planning permission to convert a former stable block into 15 letting bedrooms...
(Article continued with a discussion of other houses not related to the Culpeppers.)

1831 Topographical Dictionary:
ARRETON, a parish in the liberty of EAST MEDINA, ISLE of WIGHT division of the county of SOUTHAMPTON, 3 miles (S.E.) from Newport, containing 1757 inhabitants. The church is dedicated to St. George.
Last Revised: 02 Jan 2015